Welcome to Pragati Physiotherapy Clinic!
Scoliosis is a common condition that affects the spine giving it an abnormal curvature. Usually, the spine curves at the top of the shoulder and lower back, but in scoliosis, it curves from side to side.
It can affect the posture leading to imbalanced appearance and also cause chronic back pain. In severe cases, it may cause damage to the internal organs.
​
Physiotherapy is very effective in treating scoliosis. We at Pragati Physiotherapy Clinic in Narela, Delhi offer customized physiotherapy scoliosis treatment that helps to reduce the curvature and slow its progression. We also provide physiotherapy after scoliosis surgery.
​
Since 2012, Pragati Physiotherapy Clinic has been helping people live a physically active life. The clinic is headed by Dr. Vinay Verma, a proficient physiotherapist who is an expert in first-class, result-oriented physiotherapy treatments.
How does physiotherapy scoliosis treatment help?
The treatment options for scoliosis depends on its severity and the degree of malalignment. In some cases, braces can help, whereas in some, surgery can be an option.
​
Physiotherapy exercises for scoliosis aim to realign the spine, shoulders, ribcage and pelvis so that you can achieve a proper posture.
​
However, you need the right type of exercises to achieve this goal. General physical therapy exercises are suitable for your overall health. Still, they have very little to do with your scoliosis in terms of whether it is going to progress or stay the same.
​
Whereas, scoliosis-specific physical therapy strengthens the back muscles that support the spine and increases its flexibility, thereby reducing the curvature and making it more movable.
How do we decide what exercise are best for you?
We at Pragati Physiotherapy Clinic, believe in offering customized treatment plan according to the patient's condition. Our physiotherapists will plan a physical therapy program specifically for scoliosis to actually affect it.
​
The exercises are not only scoliosis-specific, but they also suit your individual condition. We understand that people with a lumbar curve will need completely different scoliosis exercises from someone who has a thoracic curve.
​
Further, physical therapy and exercises will work if the program is very specific to the condition and the patient's condition.
​
Besides, we also customize the program according to the type of scoliosis the patient has and his ability. The exercises will depend on the degree of curvature.
​
In cases where the curvature is more and affects the patient's ability to perform the necessary exercises, we modify the physical therapy program to initially focus on increasing that patient's spinal flexibility in the area of the curvature.
​
Once we reach the target, the exercises are modified depending on the response and improvement.
Physiotherapy management of scoliosis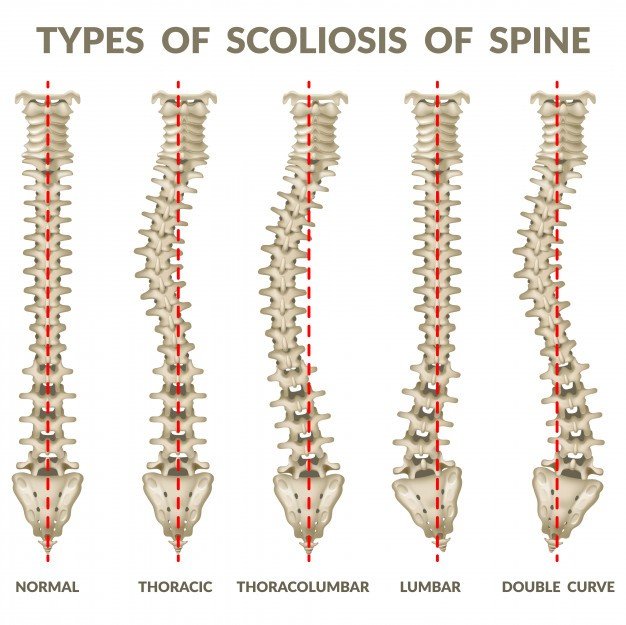 Scoliosis is classified as mild, moderate and severe depending on the size of the curvature. Our physiotherapists are trained to offer a specific set of scoliosis exercise depending on the severity of the condition.
Mild scoliosis
A patient with mild scoliosis has a curvature of 25 degrees or less. The complete program comprises of three main types of exercises that is specific isometric exercises, self-correction exercises, and neuromuscular exercises.
​
Isometric exercises engage the muscle fibres associated with posture and spinal alignment.
In the self-correction method, we teach the patient ways to correct their spine and hold that correction with scoliosis-specific exercises.
​
Learning the correct motions is very challenging, but once they have mastered self-correction exercises, it can be very effective.
​
In neuromuscular re-education, we use balance and weights to leverage the spine into a corrective position. These exercises rely on the individual's reflexes to generate the correct reaction and produce a reduction.
Moderate scoliosis
The spinal curvature is between 25 and 40 degrees for people with moderate scoliosis. For moderate scoliosis, we use passive therapy in addition to the strategies and exercises used for treating mild scoliosis. This helps to increase the spine's flexibility.
​
Passive therapies are designed for scoliosis and include different forms of traction. Also, we may use vibration therapy to get a stronger muscle contraction in cases of moderate scoliosis.
Severe scoliosis
If the curvature exceeds 40 degrees, it is termed as severe scoliosis. For such cases, we use all the above strategies and exercises, but many a time, you may need some braces to help get the body into a corrective position.
Frequently Asked Questions
1 . What are the causes of scoliosis?
The common causes of scoliosis are:
Congenital disability
hereditary
neurological abnormalities
2 . Is physiotherapy effective post scoliosis surgery?
Yes, physiotherapy after scoliosis surgery is very beneficial as a normal motion of the spine is not present due to fusion. So, with exercise, we work on its flexibility, stability and also strengthen the muscles. It helps to minimize the pains and aches due to muscle weakness.
3 . What is the Schroth Method?
The Schroth Method is a nonsurgical option used to treat scoliosis. In this method, they use exercises which are customized for each patient to help return the curved spine to a more natural position. The aim of this treatment is to stabilize, de-rotate, and elongate the spine in a three-dimensional plane.